Car Accident Lawyers in Terrebonne Parish, Louisiana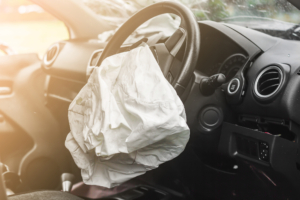 According to the Insurance Institute for Highway Safety, there were 696 fatal crashes in Louisiana in 2017 alone. These figures don't account for the many more accidents that resulted in serious injuries in Louisiana. If you or someone you love was seriously injured in a car accident in Louisiana you may have questions about the insurance claim process, questions about whether you might be entitled to seek damages from negligent parties, and may have questions about the next steps. If another person's negligence or neglect resulted in your injuries, you may be entitled to seek damages to cover your rehabilitation expenses, medical bills, lost wages, pain and suffering, disfigurement damages, or other mental and physical damages that result in a loss of enjoyment to your life .
In order to make a personal injury claim for your crash, you'll need to establish that the other driver was negligent (at fault) for your crash, and show that the accident resulted in financial damages to you and your family. BRAD DOYLE is your personal injury lawyer in Terrebonne Parish, Louisiana that may be able to assist you with various aspects of the claims process. Contact BRAD DOYLE for a free initial consultation during which we can provide you with an honest assessment of your claim and a road map forward. In some cases, victims and their families might be entitled to seek damages from negligent parties and also make an insurance claim.
Crash Types We Handle
Many car accidents could have been easily prevented had drivers focused on the road, put down their phones, and/or just slowed down. BRAD DOYLE is a car accident attorney in Louisiana who can and does handle a wide range of car accident types. We handle cases including, but certainly not limited to:
Texting While Driving Crashes
Drunk Driving Crashes
Speeding Accidents
Red Light , Stop Sign, or other traffic control Accidents
Illegal Lane Changes Accidents
Hit and Run Accidents
Reckless Driving Accidents
Inattentive driving Crashes
If you have been hurt due to another driver's neglect or negligence, you may only have a limited amount of time to seek damages or to make an insurance claim. Car accidents can leave victims suffering from a range of serious injuries including spinal cord injury, traumatic brain injury, broken bones, neck and back injuries, soft tissue injuries, disfigurement, mental damages and more. If you have questions about your next steps following a car accident injury, reach out to BRAD DOYLE in south Louisiana as your car accident lawyer today.
Protect Your Rights After Your Car Accident in Terrebonne Parish, Louisiana 
Car accident victims have important rights under the law. If you've been in a car accident, it is important to take steps to protect your rights. If you've been involved in a car accident, your first step should be safety and medical attention, if needed. Call 911 immediately to call the police, in almost all circumstances, if you are able. Some injuries can take hours or days before they become apparent and some damage to vehicles may not be visible right after a crash. If you have your cell phone available, take photos of the accident scene, but be sure to do this safely. If you can, you may also want to take down the information of the other driver involved in the accident. Names, phone numbers, insurance information, and the vehicle's make, model, and license plate number are good pieces of information to gather. Finally, you may want to contact your insurance company only, as soon as possible to report the accident.
Finally, if you have any questions about your rights following a crash, or if you have questions about the claims process, or are having difficulty with your car insurance claim, BRAD DOYLE your car accident attorney in South Louisiana who may be able to help you. Reach out to us to learn more about what your next steps should be.