Truck Accident Lawyers in Terrebonne Parish, Louisiana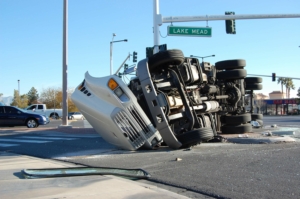 Commercial trucks are heavy vehicles that can leave passenger vehicles damaged or totaled and can result in serious injuries. When truck accidents take place, a range of parties might be responsible for paying for victims' injuries. These parties can include truck insurance companies, truck drivers, truck companies, truck maintenance personnel, shippers, and other stakeholders. Were you or was someone you love hurt in a truck accident in Louisiana? Are you facing high medical expenses or have you become disabled as a result of your crash? You may have the right to seek damages from negligent parties for past and future medical bills, past and present lost wages, pain and suffering, rehabilitation costs and for all future losses. BRAD DOYLE is a truck accident lawyer in Louisiana that can help you handle the complex truck accident claim process. From making a claim with truck insurance companies to pursuing truck companies when they violate the law and threaten public safety, BRAD DOYLE fights for the rights of the injured.
Why Are Truck Accident Claims Different From Passenger Vehicle Accident Claims?
Truck accident claims can differ from passenger vehicle accident claims because truck companies are highly regulated. Truck drivers, companies, shippers, and other parties must follow a range of laws that govern the commercial trucking industry. For example, truck drivers are required to abide by hours of service laws that limit how long a driver can be behind the wheel in a given day. Drivers are also required to pass regular medical tests and are required to hold special commercial driver's licenses. Truck companies have a responsibility to properly maintain their fleets of vehicles, which means providing regular maintenance, properly insuring their vehicles and drivers, and properly overseeing their drivers, as well as overseeing the loading and unloading of trucks. Truck companies may also have a responsibility to ensure that trucks are properly loaded and that they aren't overweighed. These are just some of the laws that can govern the trucking industry. Furthermore, truck companies may be required to have high limit insurance policies in place to protect the companies and victims should an accident occur. Making a claim following a truck accident involves understanding whether a truck company might have violated the law, and an understanding  of what your claim might be worth when negotiating with insurance companies and negligent parties. Finally, identifying which parties might be responsible for your accident is also important because multiple stakeholders might be at fault—from shipping companies, maintenance personnel, to the truck company itself.
Have questions about what your next steps should be if you were hurt in a truck accident in Terrebonne Parish, Louisiana? Not sure who was at fault following your truck accident? Have questions about whether you have a claim? The Doyle Law Firm are truck accident attorneys in Terrebonne Parish, Louisiana who may be able to assist you with your claim. Contact us today for a free initial consultation during which we can provide you with an honest assessment of your claim and help you understand your next steps.
Seek Justice Following a Truck Accident
 
The trucking industry makes billions of dollars each year. Truck companies and drivers have a responsibility to protect the safety of others on the road and to take steps to ensure their equipment is safe and that drivers follow the law. When truck companies cut corners to save expenses, innocent people can get hurt. Have you been hurt in a truck accident in Terrebonne Parish, Louisiana? Contact the Doyle Law Firm, a truck accident law firm today. Our lawyers may be able to assist you with the next steps. We can review your case to see whether a truck company violated safety laws or cut corners which resulted in your crash.